Classes are held at Cornerstone Hall, 6 Tache Street, St. Albert AB every Tuesday and Thursday evenings. 
There is a class available for all age groups and opportunities for families to train together. Classes are temporarily cancelled due to Covid-19 restrictions. We will re-open as soon as the government deems it safe to do so. Please check back for updates. 
Regular Classes from Sept-June include extra training days and times:
| | | | |
| --- | --- | --- | --- |
| Times: | Mondays | Times: | Thursdays |
| 6:15-7:15pm | White & Yellow, Green under 12y | 6:15-7:15pm | White&Yellow, Green under 12y |
| 7:15-8:15pm | Green 12&up, Blue, Red | 7:15-8:15pm | Green 12&up, Blue, Red |
| 8:15-9:15pm | Red & Black | 8:15-9:15pm | Red & Black |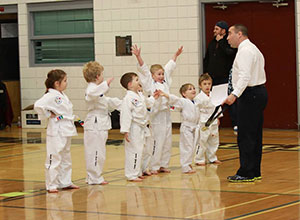 Little Ninja's 
The Little Ninja Program offered by Paladin Taekwon-Do is designed for children ages 5-8 (4 year old children MAY be accepted into this program). Paladin Taekwon-Do head instructor, Master Phil Mageau, has close to 30 years of Martial Arts experience and for many of those years he was responsible for teaching some of the youngest students, over the years he discovered that as long as you keep them busy and having fun, you can teach them anything!
At this age discipline and respect are the two fundamental attributes that are instilled into the students. Combined with the 5 Tenets of Taekwon-Do; Courtesty, Integrity, Perseverance, Self-Control, and Indomitable Spirit, students will learn basic Taekwon-Do techniques and have fun the whole time!
Classes are 45 minutes in length and held once a week. All classes involve many physical and mental training elements. Each class has a maximum of 20 students, and multiple instructors.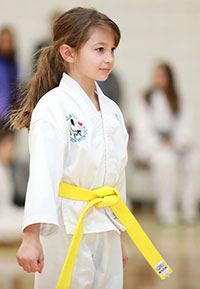 Regular Program
The regular program is for students aged 9 and up. Classes are divided by skill level, not by age, this allows Parents and children to train together in the same class. All regular program classes are one hour in length which includes a warm-up, stretching, regular technical training and exercises. Specialty classes held on Mondays are supplemental training towards meeting specific goals such as; self-defense, step-sparring, sparring, fitness, board breaking, patterns, testing knowledge requirements, and more. Weekly Specialty class themes are at the instructors discretion based on the needs of the group. 
Special Classes
Paladin Taekwon-Do offers Specialty Classes customized to the individual needs of groups. These have included school phys-ed programs, women's only, self-defense, and more. Call now to see how our Paladin team can support your group in your physical fitness quest and Martial Arts journey.